News Update 2018
Hello Members and Visitors of our OMHSA website. I apologise again for not making more regular updates of our website. The changes in technology are making it increasingly difficult to update the website, as the Front Page application, on which our website is designed, is now obsolete and also the Microsoft Explorer browser, is no longer being supported. However, I will persevere as long as I am able!
There has been a lot of concern regarding the future of our beloved Mount Hermon School. Our Hon. Secretary, Cindy Gibbs, has been back to Darjeeling and Nepal twice since the last News Update – in December 2017, when there was a reunion in Nepal, and then again in April of this year. She met with the school staff, and the Senior Master, Mr Partha Dey, as the School Administrator, Revd. K. Sardar, was in Calcutta at the time. There is still no Headmaster of the school, and the number of students has drastically fallen to just 55 boarders and 80 day-scholars, a far cry from the 700 or so there used to be. Anyway, she has given a full account of what is happening in her Newsletter, including correspondence between the Almuni ( Hermonites International) and Revd. Sardar, and included Minutes of the Meeting held between Revd. Sardar and the Managing Committee with Hermonites International. I am sure our Members all over the world, will be interested in the future, or fate of their old alma mater.
Talking about our old alma mater, there is a lovely video on You Tube produced by Satosh Todi on Mount Hermon School, showing interviews with former Headmasters, David Stewart, Graeme Murray and John Johnston. Old school songs, like "Hail Mount Hermon," Old Walls are Friendly Walls" and "Farewell Schooldays" are so beautifully sung by the boys and girls. The link is given on the Links page of our website, but for your convenience, I am giving it below, in case you have not seen it:
https://www.youtube.com/watch?v=4wNE_Uz1hi8
I have had some contacts with old students over the year. I heard recently from Tony Neill, a student from 1949 – 53, who wished to contact Margaret Griffith (Nichols), Patricia Stagg, Mina Gupta and the daughter of Lambert Quinliven, Davina. I am glad to say I have put given him contact details for all of these, and I had a very nice response from Patricia's husband, Kevin, who wrote in to say:
"She (Patricia) remembers that when she began her schooling at Mount Hermon, the Principal was Mr Dewey. On the Deweys' return to USA, Mrs Forsgren was Principal till they returned to USA in 1950. The next Principal was Mr Stewart from New Zealand.
Patricia left MHS in 1950 to go to Australia, along with her younger brother Brian Stagg. Patricia worked in Nursing, then completed a 2-year study course at Perth Bible Institute 1953-54. In 1958 she returned to Darjeeling to study Nepali language, joining a local Nepali Church. Kevin Thomas, a fellow-student at PBI, also went to Darjeeling and studied Nepali.
Patricia and Kevin were married in 1960 at Union Church, Darjeeling, by Rev Brodie of Scotland. Patricia and Kevin's 3 boys were all born at various places in India. In 1970 the family returned to Western Australia, where the 3 boys have all gained uni degrees.
Kevin Thomas"
I also heard from Chris Wilde, an old student of MHS from 1963-64. He said his parents, Jack and Mary Wilde were teachers at the school, and that his siblings, Frances, Greg and Amanda also attended as students. He is visiting Darjeeling and the old school in August this year, and I have put him in touch with Cindy, whose husband, Pradip, will be able to help him with his trip, as Pradip arranges holidays and tours of India. Pradip has been in the travel business for 30 years, and arranges holidays/visits to India, Bhutan and Sri Lanka. He has associates in every part of India, Bhutan and Sri Lanka, and arranges trips for many who haven't been back, and want to do something that is not out of a brochure. Some may wish to visit the tea garden where they were brought up, visit an ancestor's grave, go to a Club their grandfather went to, see off the beaten track things, as well as seeing sights from the brochures, as well as sights not necessarily of the brochures. Some are interested in specific things, like wildlife, but also want to add a quiet few days by the sea/mountains or somewhere. He arranges the entire trip, from collection at the airport, guiding, hotels/accommodation, all travel within India etc., by car, plane or rail, and of course return to the airport at the end of it all. This is all done with as much contact with the traveller as possible to ensure they get exactly what they want out of their trip. So for anyone of you who is planning a trip to India, Pradip is the one to contact.
I also had a very interesting email from Patricia Booth (Eade). She too had visited Darjeeling in January of this year. She shared her memories of her visit and the old school when she wrote:
"I was a student at MHS from 1950 to 1960 – my maiden name is Eade.
Last October I published my childhood memories, called "Pat's India", with a section on my years at MHS (note attached information). The book is available as an e-book, which obviously makes it much more accessible. Information about how to order is on the attachment.
In January this year I travelled to Darjeeling and was able to visit the school briefly. I met Rev K Sardar, the current Administrator, who was hopeful that the school would be re-opening in February. He kindly arranged for one of the office staff (Pemba Tamang) to show me around the main building which was undergoing an upgrade of the electrical system (so the power was off, but I could see well enough!).
I was particularly interested to visit the site of "Aotearoa" the cottage way below what we used to call the Log Cabin. This cottage was used by the New Zealand Baptist missionaries when they were on holiday. Mr Tamang and I were able to wander down some very narrow tracks to the site, but the cottage had been demolished, which did not surprise me: it was built in the 1930's.
However, Swans Nest, Homely House, Victoria House and Sunflower were still there.
While in Darjeeling I was able to meet Mr SK Rongong who was vice-Principal in 2008/2009 and his wife Mrs Saroz Rongong who was the Infant Teacher.
I visited Keventer's, Glenary's, Das Studio and the Oxford Book Shop on Chowrasta for old times' sake! And travelled on the toy train to Ghum and back. I also enjoyed the relatively new zoo on Birch Hill – in my time the zoo was in the Botanical Gardens.
On the road to North Point there were still signs of the fighting which had occurred in the 104 days of the Gurkha uprising in June/July/August 2017: burnt out vehicles on the side of the road.
Even though I was there in the middle of winter (2 degrees Celsius one morning!), the town was very busy and crowded (it was the Saraswati Puja time) so it seems that the tourist industry has recovered somewhat.
There is a new road up from Siliguri: it is actually the original Pankhabari Road which in the 19th century was far too steep, hence the development of the Hill Cart Road which is the one I was familiar with, and which runs alongside the railway line. The Pankhabari Road doesn't meet up with the railway line until Kurseong, but it is apparently more than 10 kilometres shorter.
So on my journey down I asked the driver to take the Hill Cart Road which was much more of a memory lane for me! It is apparently more susceptible to landslides, especially at Pagla Jhora (near Tindharia), where there was a very destructive landslide in 2010. I guess it makes sense to have two routes up and down.
The snows were out every day of my five day visit and I renewed my love for them. They seemed more ethereal even though the sky was blue: one of the locals brought me down to earth by saying there was much more pollution now…
I hope you enjoy my short report: you are welcome to use it on the Hermonite website.
Pat Booth nee Eade"
Visit our Books Gallery for details of Pat's book and how to order.
It never ceases to amaze me how fondly our loyal old students remember their schooldays in the Hills, and travel across the world to visit it again and revive old memories. Also visiting Nepal for the Reunion in April, was a great success. Cindy Gibbs sent me some very nice photographs, which are attached to her Newsletter, and photos of the school and Darjeeling in our Photo Gallery, under "Cindy's Pics."
Before closing, another nice photo Cindy sent me was one the Hermonites USA Reunion in May 2018, which shows several of our old students, is below.
With my very best wishes to one and all,
James.
Hermonites USA Reunion at Montreat, North Carolina in May 2018
<![if !vml]>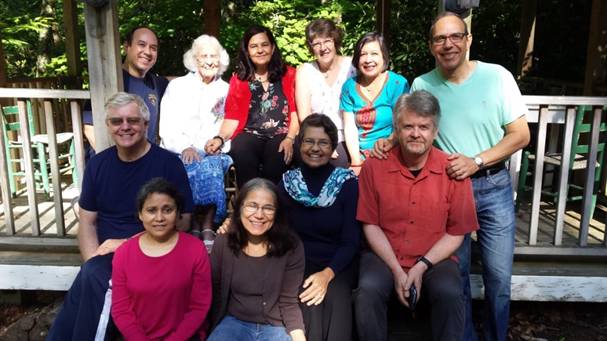 <![endif]>
L to R: Kenny Jones, Mrs Nicholls-Roy, Barbara Nichols-Roy, Margaret Mapley (Jackson), Sharon Jones, Arun Jones. 2ND Row: Ken Hagen, in front of him Kenny Jone's wife, Sunita, Josna Rege, Maryanne Nichols-Roy, Karl Hagen.
News Update 2016 - 17
My apologies for not updating you on news of the school for all this while. I have been having problems with my old computer which houses the software for the web program and was thus unable to make any updates. However the situation has now been resolved and I'm once more able to make updates. Our Hony Secretary, Cindy Gibbs made a visit to Darjeeling in March last year and sent me her Newsletter, which I had been unable to publish ere now, and I'm pleased to say I have now been able to put this up on the Newsletter page. She was accompanied by her old school friend, Margaret Mapley (Jackson) and her husband , and they were able to visit the school and meet up with the acting headmaster, Norton Emmanuel. There is a very interesting account by Margaret about her return to India after 40 plus years which is appended to her Newsletter.
Sad News
Once again I am sorry to report some sad news. Northpointer Jimmy Pyke, who was a long standing supporter of OMHSA and who attended regularly many of our school reunions in London , died suddenly in October last year after suffering a massive stroke. At his funeral on Nov. 3rd, I met up with his old school friend and former MHS student, Freddie Ruttonshaw, who also told me his brother, Cyrus, had also passed on the same year. I also heard from Gordon Hostetler that former student, and OMHSA member, Fred Osgood, known to his friends as "Ozzie" on December 2nd last year. Many of our elderly students have passed on now, which is why we have had to abandon holding school reunions in London in recent years. I also received sad news from Gordon Hostetler on the death of his cousin Lois Bjerkestrand (Hostetler) on May 15th 2017. Lois had been a loyal member of OMHSA for many years. She attended Mount Hermon before and during World War 2. In the 1941 yearbook "Thunderbolt" she was in Standard 3. Her sister, Mary Ann was in Junior Cambridge and her brother, John Jay, was in the Pre-Senior class.
Darjeeling Troubles
Although not widely reported in the international news media, Darjeeling was hit by a general strike which lasted for over three months. This was due to the Government of West Bengal's intention to introduce the teaching of Bengali in the Darjeeling District schools. This resulted in resistance by the Gorkha Janmukti Morcha party for a separate state of Gorkhaland. I reproduce below an extract from a press report kindly sent to me by former school Headmaster Terrrence Wharton:
"Recent troubles in the Hills has dealt a major blow to the image of Darjeeling as an education hub. The boarders coming to these schools from all over the country and also from different parts of the continent, contribute largely to the economy of the Hills. "Around 25 boarding students have not returned after the bandh.They have joined schools elsewhere. Out of the 25 around 7 are from Thailand. The rest are from Sikkim, Kolkata, Bihar and other parts of the country" stated Father Shajumon, Rector, St. Joseph's school, Darjeeling popularly known as North Point. The school founded in 1888 has 485 boarders and 540 day scholars. "We are anticipating more withdrawals in the next academic session. As it was in the middle of the academic year many of boarders wanting to withdraw might not have got accommodations which could happen at the beginning of the next academic session" added Father Shajumon. Majority of the schools have suffered similar fate. Mount Hermon School in Darjeeling has 35 withdrawals out of a student strength of around 230. "Such bandhs have a prolonged effect. Political unrest has taken the toll on the Tea and tourism industry too. However the tea and tourism industry will recover in due course of time but it is very difficult for the education sector to recover the goodwill that has taken hundreds of years to build and a few months to disintegrate" stated Robindra Subba, Director, Himali Boarding School, Kurseong. Schools are the economic mainstay of a town like Kurseong that boasts of 26 schools. Most of these schools have boarding facilities with students coming in from all over the country and neighbouring countries including Bangladesh, Nepal and even Thailand. "Very few tourists visit Kurseong. The urban economy of Kurseong including Hotels, taxis and even employment are largely dependent on these schools specially the parents of the boarders" added Subba. The Himal Boarding School which offers both ISC and Cambridge has a student strength of 1200 including 60 foreign students from Nepal, Bangladesh, Thailand and Singapore. The school has around 26 withdrawals after the strike. "I have no complaints against the schools. They have really done a commendable job in looking after our wards but imagine the agony the parents went through seeing the television footage of the clashes and the unrest. Earlier options were very few but these days most parts of India have excellent schools" stated a Doctor (requesting anonymity) who has withdrawn both his daughters from a Hill school after the unrest gripped the Hills. Summing up the effect of the 104 day long bandh, Father Kinley, a renowned educationist stated "This strike will go down in history as the death knell of the boarding schools in the hills. The 80s agitation took away the erstwhile boarders and we saw a new breed of boarders. The 2007 agitation added fuel to the fire and the Siliguri schools who were vying for these boarders benefited from the loss of Darjeeling. This agitation will definitely put some schools out of the education map of Darjeeling. I am sure if the schools are run well, eventually students will return but no more are we going to get back our former Darjeeling loyalist and Darjeeling lovers." OneIndia News Read more about: darjeeling, gorkha janmukti morcha, north bengal, schools Story first published: Monday, October 9, 2017"
.
A New Mount Hermon
Not having succeeded in his efforts to secure the post of Headmaster of Mount Hermon, despite the support of former students, Mr Jigmi Kazi has come up with the idea of forming a new "Hermonites International School" in Bhutan. He writes:
"Dear friends and fellow Hermonites,
To those who know me well this move will not come as a surprise. After nearly three and half decades in Sikkim I've now decided to pursue my next dream – to set up "Hermonites International School", which hopefully will one day become one of finest educational institutions in the Himalaya.
Last month, me and some of the ex-students and ex- staff of our alma mater, Mount Hermon School, Darjeeling, decided to start a boarding school in Paro Valley in western Bhutan. The location seems perfect in all respect. Ah, a school up on the mountain and down by the river!
My active engagement with Sikkim affairs came to an end in the summer of 2004. I spent the past decade or so tying up loose ends and now its almost time for me to move on. There's a calling to which I must respond positively and timely.
So I call upon all my friends and fellow Hermonites to wish us luck in our new mission. Your continued support and contribution – cash & kind, ideas & inputs etc. – will be greatly appreciated. We are thinking big but starting small.
The new initiative comes after our concerted efforts in 2012 and 2015 to bring back MH to its former glory got no response from the school authorities. Most of you who will be receiving this note have supported my candidature for the post of MH Principal. I thank you for your support and good wishes and now call upon all Hermonites to do whatever they can to save the spirit of MH and the Hermonites.
Initially, we need some amount of money to go ahead with our plans and we hope all Hermonites will make some donations to enable us to move ahead decisively. For those who would like to make investments we are in the process of preparing a plan for this and will get back to you shortly. Meanwhile, donations may be sent to me, Roslyn Namgyal (Australia), Shiv K Saria (Siliguri –India) and Thinley Delma (Bhutan) through Western Union.
Looking forward to your positive response.
Jigme N Kazi
Chairman
Hermonites International (Hi!)"
MHS Reunion Montreat 2018
Owing to the success of the last Mount Hermon School Reunion in Montreat, North Carolina in June 2015, another reunion in the US is being planned for May 24 to 27 2018. Those of you interested in attending this event may like to contact Kenny Jones at kensunitajones@frontier.com for details. It is so heart-warming that some of our old schoolfellows can get together after all these years and enjoy the fellowship of old familiar friends. There is also another MHS Reunion in Nepal between December 14 - 18th 2017.
Other News
On a happier note, I heard from Chris Swan, great-grandson of Dr. Charles Swan, that he was visiting Darjeeling in March last year and the old school where his grandfather Henry had also attended. With the help of Cindy Gibbs, he was able to contact Norton Emmanuel, acting headmaster, and visit the old school where his great-grandfather had taught and written the popular school songs, and his grandfather had attended. Mr. Emmanuel wrote to me after his visit that Chris was a walking-talking archive of information about the history of the old school!
Received an interesting email from Aimo Aho earlier this year. He writes:
"Just a short note on my own visit back down memory lane in November, 2016, after having been a student at MH in '55-'56 and '58 -'59, together with my brother Aulis and my sister Maj-Lis. This was my first trip back to Darjeeling. I had been back to India on a number of occasions before, on business, but never had the time to go back to Darjeeling on those prior occasions.
In November, 2016 I was back on a business trip in Ahmedabad, and decided I would take the time to make the trip as it would be in the cool of the winter where, memory dictated, there would clear balmy days with blue skies. I wasn't disappointed in that regard. I had sent off an email some time earlier to MHS that I would be visiting and would like to drop in to the school. Not having received any response I decided I would drop in anyway while I was in Darjeeling.
The day I did call in was after the breakup of classes and there were not many students, but a number of parents were being attended to with enrolment issues for the forth coming year.
With a span of some 57 years from the time I was a student, I knew and expected to see many changes about which I have been kept abreast over the years by your web updates, it was still an interesting experience to walk down that memory lane from 1959 to 2016 and see the many changes. The one striking impression being the need for some TLC and maintenance. There was a sense of nostalgia, with memories of the fellow students in the years from 1958 and 1959 - class mates from England and Wales; Thailand; Burma; Australia. There are many others whose faces I still see when flashes from the past emerge as images as if it was only just yesterday.
I am looking forward to a further visit in 2017 where I will take more time to go to MHS school, and Darjeeling. I will also try to see what, if any, interest there may be from senior year students from MHS, and other Darjeeling established educational institutions, in continuing their studies overseas in countries such as Australia. As an Australian Solicitor, and migration agent, I have had the pleasure to assist many to further their studies and careers in Australia from many parts of the world. May be from Darjeeling as well."
Well, that's all the news folks for the time-being. I'm glad to say that through our website I still hear from former school students and teachers who enjoy browsing through our site and sometimes seeing photographs of themselves among the old school photographs. I try and help, whenever possible, by putting them in touch with their old school friends or students.
News Update 2014 - 15
School News
Recent news of the school is not very good, I'm afraid to report. There has been a further reduction in the number of students and negotiations with the insurance company for repairs to the school building caused by the earthquake damage are still continuing. Mr Terrence Wharton, has resigned from his post as Headmaster for personal reasons, and Secretary and Chaplain, Revd. Noel Prabhuraj has also moved out of the school. The curent administrator, Mr Norton Emmanuel is filling in temporarily as Headmaster until another candidate is appointed. It is hoped that Mr Jigme Kazi will once again put himself up as a candidate for the post. Being an old Mount Hermon schoolboy he has the interests of the school very much at heart, and I hope members of OMHSA and former school students will support him, should he put his name forward. Unless some positive action is taken, I'm afraid it will truly be "Farewell Mount Hermon."
MHS Montreat School Reunion, North Carolina, USA.
The School Reunion that took place at Montreat, held between June 4th and 7th 2015 was a great success, owing to the dedication and organisational skills of Barbara Nichols-Roy (Thummalapally), Nina Wason Harkness and others. Many of our older students in the USA attended, such as Gordon Hostetler, Margaret Mapley and members of Mr Jones' family. It was wonderful that such a reunion could be arranged in the USA. I have dedicated a section of this website to the great occasion which I am sure will be of great interest. It just goes to show how many of our former students have such great affection and loyalty towards their old school.
Mr Graeme Murray
Another sad loss for Mount Hermonites is the death of Mr Graeme Murray o the 7th April 2015. Coming so soon after David Stewart, Hazel Craig and Kitty Katzell's recent deaths, it is an added loss. We knew that Mr Murray had not been well for the last few years and was in a care home with memory loss. But he never forgot his beloved Mount Hermon where he served as Headmaster from 1964 when he took over from Mr Stewart. He was a popular and much loved Head, and I have received many emails from his former students, expressing their sorrow and their heartfelt condolences to his wife and family. I have published his Obituary, kindly forwarded on to me by Cindy Gibbs who received it from Bijay Palriwala, on a special page. Our thoughts and prayers are with his wife and bereaved family.
Hazel Craig
It is with great sadness that I have to announce the death of our former Hony. Secretary and founder of OMHSA Hazel Craig. Over the last 10 years she suffered from Dementia and more recently epilepsy. She was moved from her care home at Chorleywood to a nursing home, and died peacefully on the 3rd February in Eastbourne. She will be so well-remembered for her book "Under The Old School Topee," which became very well-known. As a double tragedy, her twin brother, Geoff, who was educated at St. Paul's Darjeeling, also died four months ago. Hazel was always such a lively character - full of fun and was instrumental in bringing old MHS students together from all parts of the world, arranging re-unions in London and founding OMHSA. She will be very sadly missed.
David Stewart
It has come as very sad news that our dear "Boss," David Stewart passed away peacefully today (12th December 2014). He was Headmaster of Mount Hermon between 1954 and 1963. I know he had recently been very ill, but he lived to a good age and led a fulfilled life. Kamal Haque, a student of MHS between 1954 and '61, wrote this very fine tribute when he first heard "Boss" was so seriously ill. I have published this, together with others I have since received, on a special David Stewart page, which you can access from our Home Page by clicking on the tab.
Kitty Katzell (Mildred Engberg)
It is with great sadness that I have to announce the death of Kitty Katzell (Mildred Engberg) on 6th September 2014. I was concerned about her as I had not received any emails from her since earlier in the year, as she was such a regular correspondent. Gordon Hostetler very kindly searched and found her Obituray published in the South Jersey Local News. She was very much involved with Mount Hermon School, where her mother, Lila Engberg, was Headmistress in the 1930s, and Mildred recalled many happy memories of her school days, which is published under the tab "Growing up in India" on our Home Page. She sent me School Yearbooks of the 1930s which has enabled me to publish many of the photographs they contained. She also set up a Scholarship Fund for MH students, and sent in a large donation for this some years ago. She will be sadly missed.
Obituary – Mildred Kitty Katzell
MILDRED "KITTY" KATZELL Mildred Engberg "Kitty" Katzell, of Medford Leas, Medford, NJ died Saturday, September 6, 2014 after living a full and blessed life. Kitty was born in Chicago. Her childhood was spent in India and she went to high school in Iowa. She attended Carleton College in Northfield, MN, and earned BA and MA degrees at Syracuse University, and a Ph.D. in Psychological Measurement at Columbia University. During her career, she worked for several prominent testing companies engaged in testing for allied health professions. She was president of the New York Lung Association and was active in psychological and counseling professional associations, having served on the Board of Directors of the American Psychological Association. At Medford Leas, Mrs. Katzell was elected president of the residents association three times, and was editor of Medford Leas Life for nine years. Her husband, Raymond A. Katzell who pre-deceased her, taught industrial psychology at New York University. Before moving to Medford Leas in 1989, they lived in Manhattan and Glen Cove, NY, where they were active in the antique car hobby. Mrs. Katzell is survived by many cousins and friends. A funeral service will be held 11:00 AM on Friday, September 19th at Medford Leas Theater, One Medford Leas Way, Medford, NJ 08055. Entombment will follow at Locustwood Memorial Park, in Cherry Hill, NJ. In lieu of flowers, donations in memory of Mrs. Katzell may be made to one of the following Medford Leas funds: The Arboretum Fund or The Resident Assistance Fund or The Estaugh Redevelopment Fund, at the above address. Arrangements by Mount Laurel Home for Funerals.
Published in the South Jersey Local News on Sept. 24, 2014
The Mapleys
The following is an email written by Margaret (Jackson) Mapley. Her parents ran the "Ailina Guest House" just outside the MH gate. Mr Mapley ran the Maintenance Dept. at Mount Hermon. Margaret would very much like to hear from her old school friends of the late '60s and early '70s.
"I would like to share some sad news. Mom and Dad, Rachel and Jeffery Mapley, worked at Mount Hermon from about 1959 - 1971. Dad ran the maintenance department, Mr. Fix-it A-Z! Mom ran the school hospital for a number of years and then took over Ailina Guest House. Mom showed many students at Mount Hermon how to cook, set tables, and other household duties. Dad always had a joke or a prank for the staff and students he was is daily contact with.

Mom started nursing in Bombay (at the time) in 1953 and Dad followed her out. They married there in 1954. In 1956 they moved to Kalimpong to be house parents for the boys in Fraser Hostel. Dad also ran the maintenance department there. They both ministered through their daily lives to the many people they came in contact with.

Dad passed away after a short battle with Acute Leukemia on February 14, 2011. Mom passed away on October 13, 2014. We are sure they are rejoicing together as they were reunited for their 60th wedding anniversary on October 16th! They will be missed by everyone who knew them.

I was born in Darjeeling, as were my 2 sisters, and still call it 'home'."
New Honorary Secretary
A warm welcome to Cindy Gibbs, who has taken over as Hony. Secretary of OMHSA due to Hazel Craig being in a care home. Cindy was in Darjeeling a few months ago and had the pleasure of meeting up with Headmaster, Terrance Wharton.
Hermonite Reunion in the USA
A Reunion of Hermonites in the USA is being planned for June 4th to 7th in North Carolina USA in 2015. For further details, please visit website www.montreat.org. This is being organised by Barbara Thummalapally. The venue is The Glen Rock Inn, Montreat, North Carolina.
Dr Mark Kniss
I received an email from Gordon Hostetler with the sad news that Dr Mark Kniss passed away on June 6th. He will be remembered by many of our older students who attended school in the 1940s. Among the photographs in the Photo Gallery he appears in the 1941 magazine in the Junior Cambridge (Std.7). News of his death was sent to Gordon by Mark's sister, Esther Augsburger.
Bill Jones
It is with sadness that I have to announce the death of Bill Jones (William Wayne Jones), who died on 15th June at home after a long illness. He leaves behind his widow (Beulah Kessop Jones), sons Arun and Kenny and daughters Sharon and Nalinee. His son Kenny said his end was peaceful and the family are thankful that he is finally at rest.
In the Headmaster's Notes published in the Blue and Gold 1954 Yearbook, Revd. David Stewart paid this tribute to Mr Jones on his leaving MHS.
"It is a very sorrowful farewell we say to Mr. Jones. Mr. Jones has served three years on the staff, and has contributed a tremendous amount to the school. He has always been not only capable and efficient, but continually cheerful, encouraging, enthusiastic, and helpful. He has not only taught English, History, Latin, and Violin, he has also conducted choir and orchestra, coached games, has been Scout Captain and Warden of Fern Hill. He has earned the affection of staff and students alike, and will be long remembered at Mount Hermon. His three-year term is, however, ended, and we must say farewell. Mr. Jones goes to Yale Divinity School, where he will complete his theological studies. If in a few years' time he again returns to India, there are many of us who hope we might again see him in Mount Hermon School."
Actually, David Stewart's hopes were fulfilled when Bill Jones returned the Mount Hermon school staff in 1972 and worked with Graeme Murray who was Principal at that time. In 1978, however, Bill became Principal of Woodstock School, Mussoorie where he worked for the next 12 years.
The Murrays
The latest on the Murrays is that Graeme is in a care home suffering with Alzheimers. In an email sent to Cindy Gibbs in January this year from his son John, he writes:
"So news of the family, well dear Dad is now in a secure unit at an Old Folks home by the beach not far from where mum is in the house they live in at Raumati also right on the beach.

Dad is not good , the Alzheimers is ravaging him, hes in good spirits mostly and has good moments, he is certainly not vegetative or an idiot yet, he just cant remember much and gets very confused.
Adrienne tells me on a recent visit she was unable to find him at first and when she did he was with all the other residents awaiting the start of a "concert" for them all, however dad had commandeered the microphone and was up front telling them all about Darjeeling and Mount Hermon! He's so sweet but gradually losing his mind altogether. He has all the classic symptoms of the hideous disease.
Mum still lives in their home on her own, Stephen had the house altered so she can live there, she has a team of care givers and friends from her Church who come in each day to help, she recently had another stint in hospital after gashing her hand open. She has just been given a custom made wheel chair which is much more comfortable for her. She is very strong willed and determined to stay in the house.
How long she will stay there I do not know."
Cindy also informed me that Roxanna Gardner-Chen (daughter of Jeff Gardner who taught at MH and then was Rector at St. Pauls' for a while) also passed away on the 17th Jan. She had been battling cancer of the lung and liver. She had returned to Kathmandu, and was with her father and sisters.
NEWS UPDATE 2013
Latest
Just received this photograph of Bill and Beulah Jones (students of the 1950s will remember Beulah as Miss Kessop) This photograph was sent to me by Tammy Dalal in Florida, and she writes:
"Bill had returned from a few months in the hospital – first he had bladder cancer (bladder has now been removed) and two major heart attacks while he was there – they almost lost him a few times.
He is at home now, recuperating. Sharon, his daughter, lives locally and is a great help to them. Nalini lives about 2 hours away and Kenny is also in Durham.
Beulah looks very fragile now and suffers greatly from arthritis.
Billy and I just had to make the effort to visit this time around and I am glad we did. We laughed a lot and reminisced a lot too. They send their best to all those who remember them."
I also had the 2013 Newsletter sent to OMHSA member, Daphne Moss (Stuart) returned from her South Africa address returned with the comment, "Deceased 2009" which is sad to know.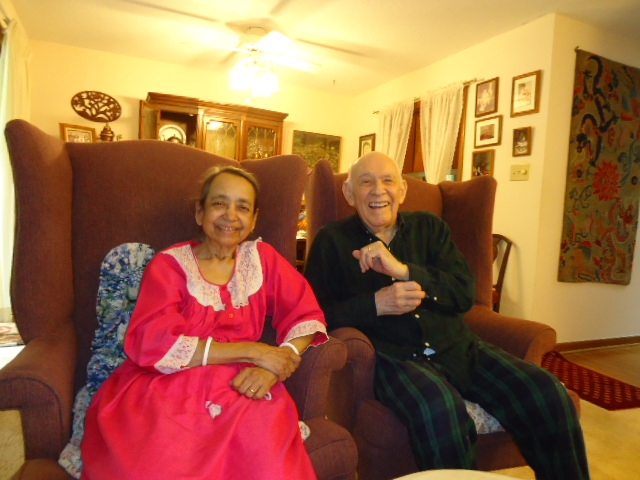 Bill and Beulah Jones 2013 - Courtesy Tammy Dalal.
School News
Members may be aware of the troubles in Darjeeling, resulting in several "bandhs" (closedowns) which has led to most of the schools in Darjeeling and Kurseong having to send their boarders home. This is because the people of the town are agitating for their own state of "Gorkhaland" to separate them from West Bengal. Mount Hermon had to send 40 of their boarders home, but I'm happy to say that under the leadership of Mr. Terrance Wharton, the new Headmaster, the school seems to be flourishing. It looks smart and clean the MHS flag is flying and the gardens have been tidied up and looking pretty. Mr. Wharton is a devout Christian and interested in posting messages on Facebook.
Sad News
I'm sorry to announce that one of our members, Duncan Wainwright died in September last year after suffering for two years from a long illness. His wife, Joyce, gave me this sad news. However, she was able to go on a tour of Australia, New Zealand, Canada and the US to meet up with old friends. She writes:
"Since then I have been on a 6 week world tour during which I stayed with - or was able to see:-
Australia - Fay Gaunt, Cynthia Hawke, Myra Mellor, Robyn & Philip, the Johnston tribe, Margaret Meagher, Roslyn & Heather (nee Rongong) with husbands Sherab & Michael respectively, Walsa (nee Mathai) & husband Steve, Nilima Mathai, Joan & Jagdish Das
New Zealand - Jim & Judy Darr, Graeme & Tricia Murray (just before her surgery) & Adrienne, Don & Enid Logan, David Stewart
USA & Canada - family & friends from our time in S.India.
It was a most amazing trip - I knew it was going to be good - & it was even better! 17 flights & 13 beds !!!!!!
Since my return in mid-April, I've spent 5 days in the Lake District with Pauline West, & during a 5-day visit from Val Johnston, we visited Rosemary Lowe (nee Mitchell) Jack Wilde & Fran, Geoff & Judy Blackmore & David, & had a visit from Pat Jelf (nee Hughes), so I should imagine the number of MHS contacts I've seen in such a short time must almost be a record!!!!!!
It is so good to know that so many of her friends are still going strong.
P.S. Just to let you all know that I have written a small book "Over Our Heads," which has just gone on sale at Amazon as a Kindle version. If you would care to, have a look at my website at www.overourheads.co.uk it will tell you all about the book, and incidentally the Author!
Latest on Mrs Murray's Health
I am very pleased to announce that I was forwarded an email from Adrienne, Patricia Murray's daughter, that her mother has greatly improved in health. She has been released from hospital and is now living alone in her own home with the help of carers, who visit her daily. She is coming to terms with getting about in her wheelchair, and is able to get to the kitchen and make herself a cup of tea and toast, heat food etc. She is also able to get on the piano stool and play the piano, which is great! Sadly, her husband, Graeme, is unable to live with her at home for the present owing to his own mental health problems and the strain it would put on his wife, so he is still living with his daughter and her husband, and though comfortable, is naturally anxious to get home. It is hoped that Mrs Murray will continue to improve and that her husband will soon be able to join her at home.
Recent Contacts
Among the many contacts I have had recently was news from Lucinda (Cindy) Gibbs, saying she and her husband, Pradip, are soon to settle permanently in the UK. I have also heard from Barry Ison who was in school from 1951-61 and who now teaches in Bangladesh. He is hoping to visit Darjeeling and Mount Hermon School soon and meet up with the new Headmaster, Terrence Wharton. I also heard by email from Joyce Otway (Keay) in school 1934-39 and who now lives in Australia. She was friendly with Hazel Craig (Innes) and Elizabeth Badal (known in school as "Ching-Chang"). She says she (Joyce) was a very naughty child and was always in some sort of trouble! She would like to make contact with any of her school friends who may remember her.
New Members
A warm welcome to Greta Halling Nielsen (Christensen) who has recently joined OMHSA as a Life Member. I was pleased to put her in contact with her old Danish school friend Enid Arnland (Weggery), who lives in Wellington, New Zealand, and they have been able to share childhood memories through the good offices of Jane Wilson, a close friend of Enid's.
Sad News
I had an email from Alister Macdonald, the son of Mary Macdonald (Kelly) with the sad news that his mother had died on 28th October 2010 at the grand age of 92. He tells me one of her pleasures were attending school reunions and sharing her fond memories of her school days at the then "Queen's Hill School," from 1925 to 1928, with her children.
I have received back undelivered 2013 Newsletters from Rachel Raymond (Ekaireb), who was at school between 1926-1936, Harriet Burkholder (Lapp), in school from the 1920's to 1936 and Joan Crossland ((Oakley) in school between 1937 - 1931, who were all living in the USA. I can only presume they have sadly passed on or perhaps changed their addresses.
Mrs. Murray
Many of our earlier students, of the 1960s and 70s, will be sorry to learn that Mrs. Murray (Patricia) has been seriously ill with vascular disease, weakness of the heart, poor circulation and kidney problems complicated by diabetes. She was in intensive care at the hospital, and at one point it was touch and go, as she had to have one of her legs amputated above the knee. However, she has survived the emergency treatment and is now slowly but surely recovering, and it is hoped that with proper care and treatment, she will fully recover from this ordeal. Our thoughts and prayers are with her and all her family, and especially her husband Graeme who is soldiering on despite his own health problems.
New Headmaster
I am pleased to announce that a new headmaster of Mount Hermon School has now been appointed as a replacement for Mr. George Fernandez who has now retired. He is Mr. Terrence Wharton who was once at MH Teacher Training College. We do not yet know much about him, but as news filters through I will keep you posted. We sincerely hope that he will be able to bring about changes to restore the school to its former standing, as it has not been doing well in recent years.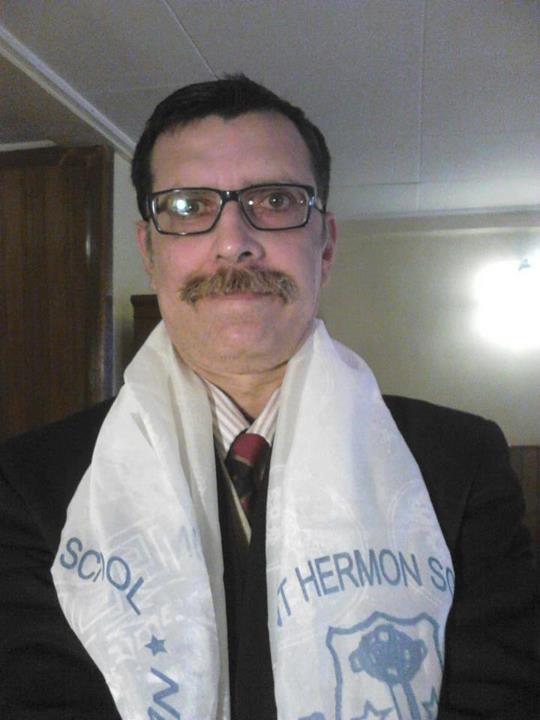 Mr Terrence Wharton (from Facebook)
NEWS UPDATE 2012
Sad News

Our deepest and heartfelt sympathies to former Headmaster "Boss" David Stewart and his family on the tragic death of his younger son aged only 47 years. After a sudden and unexpected illness, John leaves behind his widow Jude and their two young sons, Jack aged 9 and Joshua aged 6. To lose a son in the evening of his life has come as a shattering and terrible shock to dear Boss. We pray that he will be able to meet this tragic loss with fortitude and courage. He is in our thoughts and prayers.

It is with deep sadness that I have to announce the death from cancer of my dear classmate, Menno Ziessen, on 8th October 2012. I had met up with Menno and some other MHS friends in London on the 1st September, and he seemed very cheery and full of life on that occasion. Sadly we did not know that time would be so short for him. Menno was at Mount Hermon from 1947 to 1959. He attended some of our Reunions in London in recent years, and was a very supportive member of OMHSA. He will be sadly missed.
Taken at a small gathering of MHS friends at the Il Portico Italian Restaurant, Kensington High Street, London on 1st Sept. 2012

Left: Ronen Ghose, Emma, Cyrus Ruttonshaw. Right: Freddie Ruttonshaw, Jim Sinclair and Menno Ziessen.

Ronen Ghose and Cyrus Ruttonshaw with Menno (seated)
Reunions

Members will be disappointed to know that we did not hold our usual Annual Reunion this year. One of the reasons is that our Honorary Secretary, Hazel Craig (Innes) suffered another minor stroke recently and has had to be moved from her retirement village to a care home in Chorleywood, as she has suffered further memory loss, and would not have been able to attend this year. Apart from this, she is keeping well and is still bright and chirpy. Anyone wishing to write to her may obtain her current address by emailing me (jimsin12@aol.com) and I will forward you her postal address, as she's not on email any more. The other reason is that our older members are finding it increasingly difficult and expensive to travel all the way in to London to attend these Reunions, so the response for these gatherings is becoming very poor. Also, we do not wish to use the Bombay Brasserie for these occasions due to our bad experience last year, and finding another convenient venue is a problem.
MHS School News
There was recently a campaign to support the candidature of Mr. Jigmi Kazi, a former Mount Hermon Student, Teacher (1976-79) and President of the Hermonites International, in Sikkim, as next Headmaster of Mount Hermon School after the proposed retirement of the current Head, Mr. George Fernandez in April this year. However, after a lot of meetings and indecision by the school's Management Committee, it has been decided to retain the services of Mr. Fernandez for another year until a replacement is found. Mount Hermon is not faring well and in fact came at the very bottom of the League Table of Boarding Schools in India. The number of students has also drastically fallen, due to poor administration and the recent earthquake which has damaged the school building. It is hoped a decision will be made soon, as Mr. Kazi seems an excellent candidate to fill the position, and has the interests of the school at heart.
A Recent Visit to the School
Reproduced below is a recent email from Gaye Davis, daughter of former old school student of Mount Hermon, Daisy McLaughlin (Badel). She has been accompanying her aged mother to our Annual Reunions for the last couple of years, travelling with her all the way from Bristol to London to attend the occasion. It's good to know that her mother's love and memories of her old school has been passed down to further generations, to preserve the spirit of the school.
Hi all

I know I never attended Mount Hermon and simply accompanied my mother (Daisy Badal) to recent reunions, however just want to add my two-pence.
You attended an amazing school in a part of the world, which is staggeringly beautiful, no wonder you have such fond memories. I feel I can speak with a little authority as my husband and I visited Darjeeling and Mount Hermon in October 2011. We attended a Fiddlers concert Organised by a lovely American gentleman who visited Darjeeling in 1941 and had many happy memories of his time there. The concert was a success and I gave a little speech on behalf of my mum and her siblings, in particular my Aunt Mary (Badal) to whom he dedicated the concert and presented a plaque in her honour together with a donation to the school. The following day we went with 'The Fiddlers' to Kalimpong for another concert at a Tibetan Orphanage followed by another at Dr Graham's Homes.

It was so interesting to see all the school children in uniform and whilst waiting in the staff room had a look at some the exercise books piled up for marking - wow, they put our schools to shame. Neat, clear and excellent spelling, together with interesting topics. One little boy came up to me and asked if I had seen his father's sweater shop, where everything is branded! He was so proud and confident, he will go far.

The journey from the airport was 'interesting', landslides and a recent earthquake had managed to create a fairly treacherous road, however with the assistance of a 4x4 and excellent Nepalese guide I managed to overcome my fear of heights, lower back pain and drivers coming in the opposite direction on my side of the road. The views more than made up for any discomfort and those will not have changed since you were last there!

Our time in Darjeeling was spent at The Windermere Hotel, still serving afternoon tea with a red post-box on the terrace and coal fires in the bedroom and dining room - priceless. We visited Tiger Hill, Happy Valley Tea Plantation and of course had a trip on the Toy Train.

We left Darjeeling on the Darjeeling Mail to Calcutta.

I will be sending some 'photo's to James and he will publish them on the website in due course. Mum of course was delighted I had at last visited her old Alma Mater and we can now talk of her days in the Land of the Thunderbolt with me actually contributing to the conversation.
I hope this little snippet may be of interest to you.

Gaye Davis
NEWS UPDATE 2011
Reunion 2011:
As in the past, our school reunion lunch took place at the Bombay Brasserie, London on Saturday 28th May. The attendees were Hazel Craig who was accompanied by guest Geoff Rhodes, Fazle Khundkar, Daisy McLaughin (Badal) who was accompanied by her daughter Gaye and Granddaughter, Menno Ziessen, Liz Ellis (Betty Halden) and her husband, Ronen Ghose and Jim Sinclair and guest Jimmy Pyke. As usual it was difficult to muster up sufficient members to attend and it was thanks to guest attendees that we were able to make up a dozen people for a table. Understandably, it is becoming increasingly difficult for our members in the UK, particularly our older ones, to get into London for this occasion, and rail fares are becoming increasingly expensive. Also, we were disappointed with the Bombay Brasserie charges. The buffet lunch was reasonable enough at £25 a head but extras were added on to the bill - e.g. £18.00 for 4 bottles of still water! Also drinks at the bar and at the table were prohibitively expensive, and some of these were surreptitiously added on to the bill! Owing to these factors, it is becoming doubtful whether we can continue to hold these annual school reunions in the future. However, it was a very enjoyable reunion, and members like Menno Ziessen kept us entertained with his lively school stories.
| | | | |
| --- | --- | --- | --- |
| Daisy McLaughlin (Badel) and daughter Gaye outside the Bombay Brasserie entrance (Photo courtesy Gaye Davis) | Guest Jimmy Pyke (ex-North Point) and Daisy McLaughin (Badel) (Photo courtesy Gaye Davis) | Hazel Craig (Innes), Jim Sinclair, Gaye Davis, Jimmy Pyke and Daisy. (Photo courtesy Gaye Davis) | Jimmy Pyke, Ronen Ghose, Fazle Khundkar, Liz Ellis (Betty Halden), Menno Ziessen, Daisy McLaughlin (Badel), Hazel Craig (Innes) and Jim Sinclair. |
Sad News
We are very sorry to hear from former Headmaster of MHS, David Stewart, of the death of his dear wife Dorothy Stewart on the 15th August. She will be fondly remembered by many students of her years at Mount Hermon. Our thoughts are with him and his family.
A friend, Helen (Millichamp) wrote to our Hon. Member, Tammy Dalal about Dorothy's funeral, which she attended:
"I have just been to Dorothy's funeral.
So many people spoke so well of Dorothy. They spoke of her hospitality and how she always invited people into their home where she fed and cared for them. How she was so calm and let nothing ruffle her but calmly took everything in her stride. Of her sense of humour and her efficiency and capability and that nothing fazed her. She just loved people. Sons David and John spoke and also her grandsons. David (Boss) spoke at length of Dorothy's life – before she met David and of their married life together which was for 60 years. David is much frailer now and has a walker but he spoke well and at length with out needing help.
The service was a great tribute to Dorothy as she was such an influence for good to so many people."
It was also with great sadness that we heard from Dorothy Searle, daughter of David Francis, that her father died on the 15th of June of this year at the age of 93. He was one of our oldest members and was in Mount Hermon from about 1923 to 1932. We was a regular attendee at our past reunions, and will be sadly missed. His daughter sent in this tribute to her father about his school memories:
"My father, David Francis, began boarding at Mount Hermon School when he was five years old and left just before his fifteenth birthday, so that must have been from 1923 to the end of 1932. His parents were Salvation Army officers – missionaries, mostly in the Andaman Islands – and he and his older brother, Wesley, had to leave home if they were to be educated.
He had a holiday in India when he was in his 70s, mainly so that he could visit the school, and I have a photograph of him proudly holding Bishop Fisher's Cup, which he won in 1931 and 1932. He commented on the lack of trees on the formerly wooded hills, but the Tukvar tea plantation is still there.
His time at school was clearly a very important one in his life. He used to tell me stories about it when I was a child, and made a point of reading Kipling's "Jungle Book" and the "Just So Stories" to me. His library in old age was dominated by books with an Indian connection.
I remember him telling me about one year when unusual weather caused extremely poisonous russell's vipers to invade the grounds. The way the boys got rid of them was to hit them on the head with hockey sticks – the concept of 'Health and Safety' must have been very different then! Apparently, black panthers sometimes prowled around too.
Much more to my taste: the matron at that time was very fond of orchids and asked anyone who was going for a walk bring back any they found. She grew the plants on an old wooden fence, where they thrived.
I wasn't so interested in tales of crawling through storm drains in the dry season or making a huge Meccano model (including a model railway, I think) with everyone contributing a few pieces.
He used to supplement his pocket money by ignoring instructions to buy first-class railway tickets and travelling third class with the village Indians. Of course, I know about the practice of leaping off the train at the start of Ghoom Loop and jumping back on again at the other end.
Dorothy Searle."
| | |
| --- | --- |
| David Francis 1918 - 2011 | David Francis with Bishop Fisher Cup |
NEWS UPDATE 2010
Reunion 2010:
Our annual school reunion took place at the Bombay Brasserie, London, on Saturday 22nd May. Those who attended were Hazel (Innes) Craig (Hon. Secretary), Liz Ellis (Betty Halden), James Sinclair with Guests Jimmy Pyke (ex-North Point) and Celine Franklin, Daisy McLaughlin (Badal) and her daughter Gaye Davis, Joyce Course (Leroy), Fazle Khundkar and Tariq Rahmin. Although there was only a few of us (many members responding with their inability to attend), a very good time was had by all. The meal was excellent with a wide range of curry dishes served buffet style in the conservatory area of the restaurant, which was light and airy. Photographs can be seen on the "Look At Them Now" page in the Photo Gallery.
Contacts:

Most recently, we have had contact with Lynda Du Croix (Martin) who was in school in the 1950's and would like to contact her old school friends. The most interesting contact of last year was when I received an email from Kitty Katzell (Mildred Engberg) who was the daughter of one time Headmistress, Lila Engberg (1931-35), and who lives in New Jersey, USA. Mildred accompanied her mother to Darjeeling when she was a child. Besides the very precious old school magazines and photograph albums she so kindly sent me at her own expense, she also included a biography of her mother, entitled "Lila" which she published in 2006, which includes a very interesting chapter of her mother's term as Headmistress of Mount Hermon School. She was well acquainted with Carolyn Stahl, Headmistress (1918-29) and in fact travelled back to the States with her on furlough in 1930. This was of great interest to Susan Eason, great-great grandniece of Carolyn Stahl, who had visited MHS in 2000 to search for any information on her Aunt Josie, and who had written to me seeking information on anyone who had known her. It was a great pleasure to put Susan and Kitty in touch with each other and Kitty was able to fill Susan in with stories about her Aunt. Other contacts have been made with Calvin Laporte, Edmund Jonah, Zoe Kelman, Tim Reynolds, Carol Horne, Greta Halling Nielsen (Christensen), Sandra Robinson (Phillippe), Aimo Aho, Connie Isaacs (Constance Mozelle Anna Saul), Wajid Ali Khan Panni, June (Anderson) Wallin, and Jigmi Kazi who is a journalist in Sikkim and was elected First President of Hermonites International (formed in 2005). He was a student in MHS from 1963-72, in the Teachers' Training College (1974-75) and a Teacher in 1974-75. Please see our Contacts Page for further information.
Sad News:
It is with great sadness that we have to announce the death of Author and Honorary OMHSA Member, Terry Martin, on the 29th April 2010 after a long illness. He wrote three books on the Darjeeling Himalayan Railway; the first "Halfway to Heaven" published in 2000 and subsequently Volumes One and Two of "The Iron Sherpa," the Story of Darjeeling and its Remarkable Railway. He was a regular supporter of OMHSA and attended several of our Reunions in London. In his first book he published the words of the old Mount Hermon School songs, "Going Home Day," and "Riding Roads of Sunshine." He will be sadly missed.
Members will also be saddened to learn of the death of Edith Stiffle (Lloyd-Marrow) on 9th April 2010. Edith had been an invalid for some years and was in a care home at the time of her death. I also heard from Gordon Hostetler of the deaths of Oprha Hershberger (2003), Adrienne Peace (Kilroy) ( 2008) and Mary Ann Melchart (Hostetler) (2005). It was kind of Gordon to provide me with this information. I wrote to him after our 2009 Newsletters were returned undelivered from these members.
Susan Eason's Visit to Mount Hermon School:
The following is an interesting account of Susan Eason's visit to Darjeeling and Mount Hermon School in April of this year. Susan is the great-great grandniece of former Headmistress, Carolyn Stahl.
"On Saturday, most of the team headed home, however, Carole and I headed up to Darjeeling for a few days sightseeing and to visit Mount Hermon school. We were blessed to see the sunrise at Tiger Hill (highest point in India) and the highlight was when the first sun-light hit the Himalaya's to the west on Easter morning! It was VERY cold and windy, but worth getting up at 3:30 AM to see. Those of you, who know me…understand "how" fantastic it had to be for me to get up at 3:30 AM in the morning! We attended Easter Services at St. Andrews Church for an English speaking service. The message was a good one and the singing loud and joyous. We saw many other tourists who had also joined us in the congregation. After a quick tea with the church, we then toured all over the city. Easter was an incredible day!
On Monday, we got up and drove to Mount Hermon school, where my grandmothers great Aunt Carolyn Stahl (referred to as Aunt Josie) helped to found this school. I have been very interested in it. I have been able to make contact with a wonderful woman who knew Aunt Josie (Carolyn Stahl). Kitty Katzell (Mildred Enberg) daughter of former Headmistress Lila Engberg, was a little girl of 2 when her mother moved to India (as a widow) to become a missionary teacher at Mount Hermon School. She and her mother came back with Aunt Josie when she returned home in 1930 and Kitty has shared with me a scrapbook that her mother kept of that voyage as well as a copy of the book she wrote about her mother called "Lila". It is a very interesting story and for you fellow Iowan's, Lila was born in Iowa and she came back and taught at Iowa Wesleyan after leaving India. It has been very fun getting to know Kitty via e-mail and learning more about Aunt Josie, Lila and Kitty. I was able to check on a scholarship fund that Kitty set up in honor of her mother, Lila Engberg, and found out that it is still going full force and I was even able to meet the young lady who won this scholarship this year. Lila was the principal of Mount Hermon school after Aunt Josie. I walked all over the Mount Hermon and took 1000's of pictures (according to Carole, only a 100 or so according to my camera ; ) – Carole was such a trouper following me around and snapping photos of me every time I said "Carole, take a picture! (I will insert the "please" here; ) We toured classrooms and students dorms. I found many students with red "Stahl house" shirts. They created 4 teams at the school for competition and one of them is Stahl House in honor or Aunt Josie and they are recognizable in my photo's by their bright red polo shirts. I had a so much fun touring the school and meeting the staff and students. They have a total of 500 students now and still have a Christian education. The school was first founded in 1885, by Emma Knowles and referred to as Queen's Hill School, it moved to the Mount Hermon location in 1926 (Aunt Josie moved to India in 1892). So, the school has been going for over 100 years. I only took a total of 750 photo's in all of India for those who are tough enough and willing to look! HA! Even mom couldn't make it through all of them this weekend as she fell asleep (don't even ask me if she was faking it?). Dad was very interested in how they built the houses, so we stopped and discussed that many times.
I want to thank each and every one of you for your prayers and words of encouragement! They truly did make a difference. I do not believe that we would have had the experience we did without your prayer's supporting our feet! "
Susan Eason - April 2010.
Contact with Greta Nielsen (Christensen)
These old school photographs of 1945 were very kindly sent to me by Greta Nielsen (Christensen) recently. She writes:
"I have been looking at the OMHSA pages and enjoying it all very much. I am living in Denmark but went to Mount Hermon from 1943 to 1945 (Greta Christensen). My old friend Doris Hunt (Hazel's classmate) showed me the school home page when she visited us on a cruise tour and stopped in Copenhagen. I met Hazel in England in 1995 and we had dinner together with Doris and her husband at Gilbeys Restaurant in Old Amersham - please give her my love."
To see larger and clearer images of the photographs, please click on them.
| | |
| --- | --- |
| L to R: Pamela Monks, Greta Christensen, Mauveen Roche, Lorna Pullleyn, Joy Crofts, Cathie Jewkes, Milly Nadler, Judy Haynes. Back Row from Left: Jean Warren, Barbara Felerabend, Elizabeth Sibley, Aileen Beat, (??), Ruth Crofts, Ena Boyden, Doris Hunt. | Members of the Red Cross Club - L to R: Barbara Feierabend, Leila Guha, Pamela Monks, Annie Schouten, Mrs. Nuttall, Mary Bookless, Greta Christensen, The two boys are Jamasp Ormrigar and Derek Mitchell. |
NEWS UPDATE 2009

Reunion 2009:
Our Reunion Lunch took place at the Bombay Brasserie, London, on Saturday 23rd May. The attendees were - Fazle Khundkar; Ida Smith (Ray); Liz Ellis (Betty Halden); James Sinclair; Hazel Craig; Terry Martin and guest, Fabien Raymondaud; Menno Ziessen; Ronen Ghose and his wife; Patricia Russell; Doreen Ward (Stevens) and new member Daisy McLaughin (Badal) and her daughter. It was a friendly gathering and the meal served by the BB was of the usual good standard. The restaurant has been recently refurbished, particularly the lounge and bar area with adequate seating arrangements. The old school magazines of 1929, 1933 and 1934 and a photograph album of 1926 - 1935 and a smaller album of Mount Hermon School students taken between 1931 - 34, and sent to me by Kitty Katzell (see above) were shown round and were of great interest. Photographs of the Reunion are published on the "Look At Them Now" page in the Photo Gallery.
Latest:
After posting our 2009 Newsletter to individual OMHSA Members, we were saddened to hear of the death of Gerald Rayner, three years ago, from his son Peter. He used to attend some of our reunions in the past when they were held at the Cavendish Club.
New Members:
A warm welcome to new life member Daisy Badel (McLaughin). Her daughter contacted us through the Internet, and they both hope to join us at our next reunion.

Contacts:
We have had several contacts from old school students or their children/grandchildren over the last year. These are Mahesh Singh, who is practising law in New Delhi, Jean Hurley (Benedict) who was in school in the 1950s with her brothers and who would like to hear from Nilima Raichoudhury; Charles McGilchrist who still resides in the Darjeeling area and who is a teacher; Tony Morgan who said his grandmother, Marvelle Dozey, worked as a secretary at the school and her sister, Phylis Kelman, was a teacher. Their mother, Zoe Dozey was a math's teacher. He was pleased to see some old school photographs on the site with Phylis, Zoe and the Kelmans. He is connected to the Morgenstern family, and would very much like to know where "The Rosary," was located. He mentioned that the family sold a large portion of land, which became the site for Mount Hermon School, and he would like to know more about this. We also heard from Trevor Schubert from Australia. He and his wife visit Sikkim and the Darjeeling area as often as they can. Margaret Griffith who lives in New Zealand also wrote in. She is the daughter of Lilian Nicholls who was in MHS from 1947-53. She was visiting India and wanted to contact Meera Hemmad, and with the help of Tammy Dalal and Mehna Khare, she was hopefully able to do so. We also heard from Tracie Thomas. She is the granddaughter of Ellen (Nellie) Payne who was a student, then a student-teacher in 1936-37. She still has her grandmother's old autographs album with a lot of entries by other school students of her time, and would love to hear from anyone who remembers writing in the album. A Melanie Tucker in the USA also contacted us. She is interested in contacting OMHSA Member, Joy Abrahams (Callow), as she is doing some genealogical research and thinks Joy may be able to help her with. Laurie Reynolds (MHS 1969-70) also contacted us, and said she would like to hear from anyone who was in school at that time. Fred Osgood (Ozzy) also recently wrote in. He would like to contact Benjamin Badal and Daisy Badal. He says he remembers Daisy as a particularly formidable hockey player and Benji as a friend and protagonist in the 1937-42 period. Finally, we heard from Nirmal K. Mondol who lives in Washington DC in the US. He was very anxious to contact Miss Mary Badal and Professor Philipe Sandre who he says he met in Washington DC in 1943.


Reunion 2008
Our Reunion Lunch at the Bombay Brasserie, London took place on Saturday 26th April 2008. Although there were only a dozen of us at the gathering, it was a friendly group. Attendees were: Fazle Khundkar, Ida Smith (Ray), Liz Ellis (Betty Halden), Hazel Craig, Terry Martin, author of the book on the Darjeeling Himalayan Railway "The Iron Sherpa" and his three guests, Fabien Raymondaud, Marilyn Metz and Peter Tiller, who are closely associated with the DH Railway Society. Joy Broad (Wade) also attended with her daughter, and James Sinclair brought his guest, Jimmy Pyke, who is a regular attendee at our gatherings. Many of our members had previous engagements, so were unable to attend. Still, it was nice to get together again for the annual occasion. The food was up to its usual good standard and drinks at the bar were at special discounted rates. A few photographs of the occasion are published on the "Look At Them Now" page of the Photo Gallery.
A Reunion After 50 Plus Years:
OMHSA Member Ronen Ghose, who was in MHS in the 1950s, kindly invited Menno Ziessen and Jim Sinclair to meet up with him at Milton Keynes on Saturday 1st November 2008. Although Jim had not met Ronen, as he was in school before Ronen joined, it was great to see the affection with which Ronen and Menno greeted each other, after a lapse of 50 plus years! Ronen took us to a posh Indian restaurant for a slap-up meal, then afterwards to his home to meet his wife and his son, Ron, and family. Menno took his old photograph album with lots of school photographs, (a few of which are reproduced below), and happy memories of old school days were exchanged. It was a truly memorable occasion, and "Hermonites reunited" was the catchphrase of the day. And thanks to Ronen for his kind and warm hospitality!
Please click on images to see them larger and more clearly.



Senior boys' dorm.
Noel Long (back extreme left), Barry Morrow (back right with glasses), Badal Bose (in the shadows top right) and Nat Indrapada (left) and Menno Ziessen in front.

Ready for bed -
Anup Banerjee (extreme left) and Noel Long ( right)

A Mad Hatter in the classroom (Ronen Ghose)

Scout troop - Gordon Whyte (top right), Barry Morrow (two below him)

Scout troop going walkies

Benu Chatterjee and Nat standing while Somkiat checks Mr. M's corrections.

SC & HSC 1958

Ronen and Menno reunited

Menno, Ronen and Jim Sinclair
Sad News:
It is with great sadness that we received the news of the death of Noel Long on the 6th of November 2008. He passed away peacefully at a hospice after a long and painful illness, with his wife, Jan, and eldest daughter, Sheila, at his side. He had been a classmate of Menno Ziessen, Barry Morrow, Ronen Ghose and Jim Sinclair, amongst others, back in the 1950s. His sister, Oreen, kept us informed of his condition and then his final passing. His wife, Janice, sent in this tribute to his friends and colleagues:
"Thank you for the condolence messages you sent to me or sent via Oreen. Those words help so much in getting through these difficult times; and the notes and remembrances you shared about Noel are so special. We were married 47 years so I have many wonderful memories. Although it is hard to realize he is not physically with me, I feel his spiritual presence which is a comfort. I am attaching a copy of the inside of the program we used at Noel's memorial service and hope you are able to download it. If not, let me know and I will do a copy and paste to include it in another email. We printed the color picture first and then overprinted the rest -- that is why there are two pages in the attached. For those of you who knew Noel during his school days, he talked about his Mount Hermon friends, teachers and David Stewart so many times. He was excited when he found the Mount Hermon website and was able to converse with many of you. Again, thank you for caring and for having been a part of his life. Love, Janice
Janice Long
Oklahoma City, OK"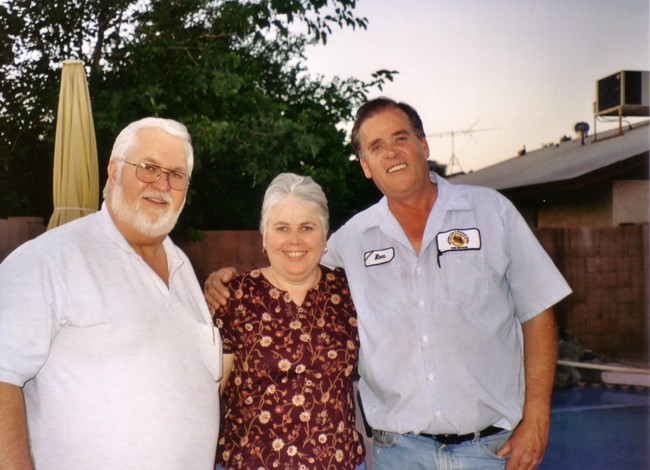 L to R: Noel, Oreen and Ronald
Oreen also sent me these pictures of her school days at Mount Hermon. She can't remember all the names, so if you recognise anyone, please contact me so I can add them in.
| | | |
| --- | --- | --- |
| School Group taken about 1962 - Ronald 5th from top left, Oreen 2nd on the 2nd row on the right. | 1964-65 - Oreen seated right of teacher in the middle. Pravwathi Rai to the right of Oreen and Nim Lamo at the end of the row. | Taken about 1965-66 - Oreen 3rd to the right of the teacher, sitting next to Lim Lamu and Pravawathi Rai next to teacher. |
| Entire junior school, taken about 1966 | Taken about 1964 - Oreen 2nd from Mrs. Murray's right | Class II 1961 - Oreen standing 2nd from Mrs. Williams left. |
Best Wishes:
To Rev. David Stewart for his 86th birthday. He and his wife Dorothy are soldiering on despite health problems. Best wishes too to Mr. and Mrs. Murray for their 54th wedding anniversary on January 22nd.