A Tribute to John Johnston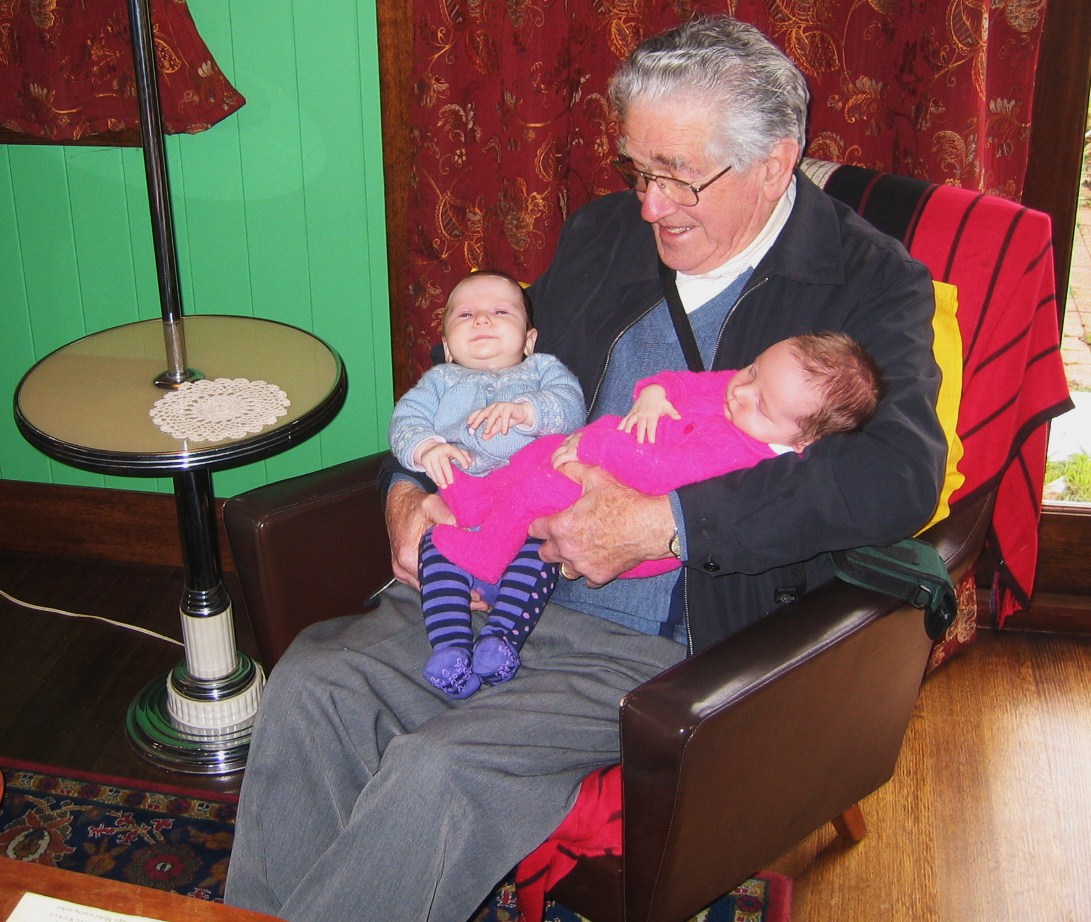 Rev. John Johnston with grandchildren.
Revd. John Johnston was the last of the "Big Three" Australian Headmasters who served at Mount Hermon School. His predecessors were Revd. David Stewart and Graeme Murray, both of whom have now passed on. Previously, all headmasters who served at Mount Hermon were American. He died in Tasmania on Monday 17th April 2017 after a long illness. His wife Val and family were at his bedside.
Though I only met John Johnston on one occasion when I visited the school in 1981 he kept in regular contact with me as he did with his former students.
Below, are some of the tributes paid to him:
MY TRIBUTE TO A REVERED FRIEND AND GUIDE
"Whether we live or we die, we belong to the Lord' (Rom 14:8). As I think of the life and death of Rev. John Johnston, I feel that these words of St. Paul beautifully summarize his entire journey of life. Indeed, he always belonged to the Lord as much as he belonged to all who knew him as a family member or a teacher or friend.
I was privileged to know him from the early eighties when we both appeared for a qualifying examination necessary to be the Head of an Educational Institution. His vast knowledge and experience in life helped me learn many things including the academic curriculum! His simplicity, cheerfulness, laughter and serene countenance reminded me of a man of God, a missionary and a friend of all.
When the Johnstons left Darjeeling after retirement, their nostalgia for Mount Hermon School and friends was palpable in their regular visits to Darjeeling, Siliguri and Calcutta. Supported by Mrs. Val Johnston, Mr. John would always visit me, even for a short time, wherever I was. It was this warmth and affection of a friend to another friend that soon became a strong bond for many years until his death.
His unassuming and joyful nature endeared him to all. Anyone needing help could approach him without fear. His availability and readiness to help made many a student and friend come to him and listen to his sound advice. John's sense of humour made all around him burst into peals of laughter and thus maintain that balance of joy even in the midst of a burdensome life.
This quality of being human had its roots in the Christian Faith which John professed and in the Person of Jesus for whom John lived all the days of his life on earth! This Jesus gave him the gift of a sense of proportion in life and this won him many friends from all walks of life, especially from the student community he guided and served.
As we bid a final farewell to our dear friend and guide, Rev. John Johnston, I remember the words of the great poet of Bengal and a Nobel laureate – Gurudev Rabindranath Tagore:
"On the day when death will knock at thy door, what wilt thou offer to him?
Oh, I will set before my guest the full vessel of my life –
I will never let him go with empty hands.
All the sweet vintage of all my autumn days and summer nights,
All the earnings and gleanings of my busy life will I place before him
At the close of my days when death will knock at my door" (Poem 90).
Rev. John Johnston has gone to the Father's House as Jesus promised, setting before God the full vessel of his life, placing before him all the earnings and gleanings of his life, and I pray that the merciful Lord Jesus may purify him fully and transform his mortality into immortality in heaven for ever.
I offer my heartfelt condolences to Mrs. Val Johnston and family members and assure all of them of my prayerful support in this hour of sorrow. Good bye, dear friend and guide! May you rest in peace.
- Archbishop Thomas D'Souza (CALCUTTA, INDIA)
Tribute from Stuart D'Costa:
"Pa J". That's what he was affectionately referred to by all TTC students, and rightfully so. He changed my life and gave it direction at a time when, after my schooling, I felt I was adrift in the doldrums like a ship with no sails. He interviewed me at the Calcutta Boys' School in 1979, and must have been appalled to hear my "speech impediment" with words like "mudda" and "fadda" and other "howlers" that probably spewed out of my mouth. Yet, he saw something in me, and in admitting me to the Teachers' Training College the following year, he put wind in my sails and set me on a course of new adventures. Later at our TTC graduation, he affectionately explained how he was impressed with my big smile and flashing white teeth at the admissions interview. My life has gained so much momentum since, and words can never do justice in expressing my gratitude to someone so tender, and fatherly to us all at MHTTC.

"Pa J, and Ma J," knew we were hundreds of miles away from home, and would have us over at "Trees", their residence almost every Tuesday, where we were served refreshments, and harmoniously sang spirituals. It was their way of making us feel at home, and it truly felt so. Pa J added a verse to the spiritual, "Give me oil in my lamp, keep me burning" which made him appear so human to me, and it always cracked me up. It went something like, "Give me umption, in my gumption, help me function." Another regular, and favorite at "Trees" was:

"Because He lives, I can face tomorrow. Because He lives, all fear is gone Because I know, He holds the future. And life is worth living, just, because He lives."

Pa J will always live on in our hearts. Through his lessons on life, he has given direction to the lives of so many young TTC students, and in doing so, has helped us touch the lives of hundreds and thousands of children who passed through our classes.

Ma J and Pa J truly were like parents to us all at TTC and would encourage us to share our problems with them whenever they sensed we were troubled. We will always cherish every loving memories of them we so fondly hold in our hearts. Our prayers and love go out to Ma J and the girls.
It is with great honor and sadness that I thank you for giving me this opportunity to share my memories of the Johnston family.
Tribute from Bhaskar Paul:
I am deeply saddened to hear about the news of our honourable and beloved ex principal Mr. John Johnston. It was he who got me admitted to MHS in the first place . I still remember when he was taking attendance during admission and it was the first time I heard him speak. He had to call out my name three times before I answered " yes " . I couldn't understand English very well then, and for some one as well spoken and refined as Mr Johnston, I couldn't make head or tail of his accent. I was getting admitted to class 3 then. I was frightened and afraid. He did say something to me for my late response but again I didn't understand a single word of what he had said. All I could make out was the laughter in the room after he finished whatever he was saying. He must have said a few words of advice for me, which the others could comprehend but which I couldn't. He was really a inspiration and loved by almost all the students.
I remember him playing the piano full of energy and enthusiasm, and singing the morning hymns along with us. When we were in class 3, 4 and 5 we usually got the front benches, and occasionally we got the side front benches putting us directly on the right hand side of the piano and the piano player. This is when we got the best view of him. I can't remember him using any lyrics from the music script while playing, and we just sang a little louder than him at the piano. His energy and joy inspired us to sing better.
I still remember when we bid farewell to him. We lined up on both sides of the drive way from the main gate ( Kangchenjunga side ) till the exit gate of the school , holding flowers in our hand , and as the old Ambassador car passed by we threw the flowers on the vehicle. The vehicle was moving very slowly as if to allow us just a few extra minutes of his presence. I think both Mr Johnston, his wife and many of us were crying. Finally the car exited the gate, climbed up the hill, and disappeared from our view. I think we still stood there for the while just to make sure that he really had gone. We wanted to see him as long as we could. We wanted to be there with him as long as we could. During my 7 to 8 years in MHS ( class 3 to class 10 ) never did we have such a farewell again. Although we did say goodbye to many after Mr Johnston.
I am not very religious but I do firmly believe in God and I believe the spirit never dies. Based on our Karma ( deeds) the good Lord decides what to do with our spirit and if our deeds are good then the good Lord rewards our spirit and we have nothing to worry about. I am sure Mr Johnston is going to be taken good care by the Lord and we have nothing to worry about . This is just a journey and like everyone else he has passed from one stage to the next.
May God give strength to his family and friends to overcome this little hard phase of life.May God grant us the wisdom to have faith in the Lord and understand that even things such as these are part of his plan and happen for reasons best known only to the Lord. may our "Sir" Mr Johnston rest in peace.