Speech for the 1991 Mount Hermon School Reunion Dinner
Charles Lundeen Swan was born in Calcutta, India, August 5th 1909. One might even say, born with an early determination what his life was to be. At the mission in Pakur, Bihar, his playmates were the children of the Bengali mission workers and his sister, Hilma. He very closely observed his father and other missionaries, but his interests were not appreciated by his year younger sister. One day she marched off to the mission house in disgust. Her mother noticed the considerable amount of irritation. "Well!" she asked, "What's the matter with you?" "Oh that Charles! All he wants to do is Preach! Preach! Preach!" she said prophetically.
In 1917, his parents returned to the United States for their first furlough after eight years, accompanied by Charles and four siblings. Two years later the family returned to India with yet another sibling. By 1922, the family became complete, and Charles as the eldest of seven, had something to contend with. He would be an important part of their upbringing which even called for heroism when it became necessary to snatch a two-year-old sibling from crawling under the ship's railing to watch, from the other side, how the water swirled by. It happened somewhere far out in the South China Sea.
Charles's early schooling in India included the old "Queen's Hill Girls' High School" and a short time at St. Paul's in Darjeeling. High School was completed at P.S.C. in Naini Tal.
In 1925, at the tender age of fifteen, he left home, family and India to attend college in the U.S. The cultural shock had to be traumatic; a whole new world of total strangers, even the relatives were strange and part of the trauma. But such adversities were handled well as he wasn't just an ordinary American kid.
In March 1928, he was rejoined by his family on their second furlough. Charles in college, took time out to work so that part of his education was delayed slightly, and at the advanced age of not quite twenty, he received his bachelor's degree from the University of Chicago in 1928.
He said goodbye to his parents and the four youngest siblings as they left for Los Angeles to return to India by that long Pacific route. When they arrived in Calcutta, Charles was there to greet them. He had not only graduated but had also acquired a job as Educational Missionary to Darjeeling, and had taken the faster eastern route. At the same time, the Great Depression of 1929 hit the world.
His duties at Mount Hermon started with the school year of 1930. Many of you know and have shared that life with him. In 1932, Charles and Kathleen Vivian Doucette were married, and in 1936, he returned to the U.S. with a wife and a son, Alan.
In Milwaukee, Charles served as student-pastor, and attended graduate classes as Garrett Seminary and Northwestern University.
Returning to India in 1940, this time with two sons, Alan and David, he served as District Missionary at Sironcha and Hyderabad where they stayed through the war years.
A new life was started in 1947 when back again in America he served several pastorates in the Michigan Conference.
From the Northwestern University, he received his Ph.D. which lead to a Professorship at Albion College in Michigan, and later to the faculty of Wayne State University, Detroit. However, through those years in the academic world, he was always involved in and contributed much to the local church life, but there was always a part of his heart in India.
Charles suffered a great loss whey Kay died in Detroit.
In 1986, Charles married a good friend of theirs, Doris Notestein, the widow of a close associate of his at Albion College.
India has not been forgotten. He has visited the country of his birth and childhood several times since leaving his duties there. He even took his new bride there immediately following the wedding.
He and Doris now reside in Fairfield Bay, Arkansas.
Speech written by Charles Swan's brother, Henry Swan, and presented by Gordon Hostetler, Master of Ceremonies for the 1991 Mount Hermon School Recognition Dinner, held at Camp Alexander Mack near Milford, Indiana.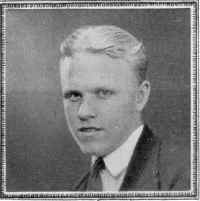 Henry Swan