MOUNT HERMON SCHOOL'S MOST FAMOUS
Tom Stoppard
Apart from many other students of Mount Hermon, who may have done brilliantly in their careers, probably the most famous of all is Tom Stoppard, the eminent British playwright! As young Tomas Streussler, son of a Czech doctor who worked for the Bata Shoe Company, in Zlin, Czechoslovakia, he moved with his family to Singapore in 1939 to avoid the growing dangers of the Second World War, and thence on to Burma and, finally, India. By this time his mother, who was widowed by the death of her husband in Singapore during the Japanese invasion, had married again, this time to a British army officer, Kenneth Stoppard, and It was after Tom and his brother left India for England around 1945/46 that the boys adopted the surname of their step-father, and Tomas Straussler became Tom Stoppard.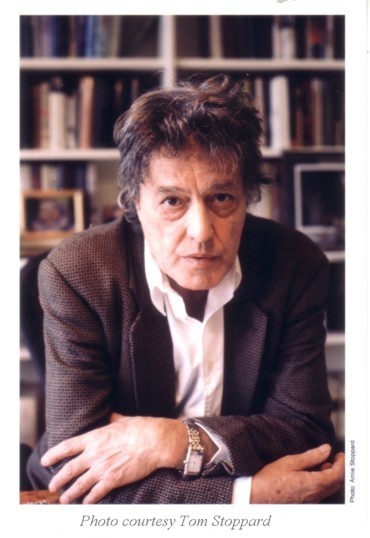 Tom, his brother and mother landed up in Darjeeling (where else?) in about 1943, where his mother took a job as Manageress of the Bata Shoe Shop in Commercial Row, just next door to Keventer's Milk Bar. Both Tom and his brother were put into Mount Hermon, (1943-45) then under the Headship of Mr. Boyle, and it is said that it was here Tom learned English, something the literary world has to be very grateful for! ("Hail Mount Hermon!")
It is said in one of the many articles available on the Internet about Tom Stoppard, that Tom had only "vague memories" of the American school he had once attended in India. But perhaps that was before he happened upon "Under The Old School Topee," by Hazel (Innes) Craig, which may have revived memories of his old school, because in 1991 he was spurred on to visit Darjeeling again, and particularly his old school, Mount Hermon. He writes an account of his visit "In Search Of Childhood" in The Mail on Saturday, of May 4th, 1991, that his main objectives were to find the houses he stayed in (Minto Villa, the Swiss Hotel and Struan Lodge), the Bata Shoe shop, where his mother worked, and of course Mount Hermon School!
As with all visitors to the school he was made very welcome, and even though the school was closed for the winter holidays, was shown around the dignified grey building by Mani Lama, the Nepalese great-grandson of a tea-planter and an old MHS boy. He visited the dormitory, unlocked for him by Richard Tamang (MHS 1959-64), where he and the smaller boys were accommodated, the older boys' dormitory being at Fern Hill, and was guided down the dimly-lit and familiar school corridors. Although he doesn't mention it in his article, he was probably shown the assembly hall, school dining room, library and the well-lit classrooms, the air still redolent with the smell of old school books, pencil shavings and chalk dust, where you can imagine he once sat at one of the battered old desks!
Back in the town, he found "Minto Villa" where as a small boy he had lounged at the gate, worrying passing American GI's if they had "Any gum chum?" As one would recall, Darjeeling was full of British and American troops in those War years, stationed at the military cantonments of Jalapahar and Lebong. He also located the Bata Shoe Shop quite easily, but "Struan Lodge" was more difficult. But by contacting one of the Lobo family (who doesn't remember their tea room, "Lobos" down Laden La Road and the delicious cakes and pastries they made?) he was directed to the stone building, rather shabby now, but still bearing the vestiges of apricot-coloured paint.
Tom mentions many of the familiar Darjeeling haunts – Plivas, The Planters' Club, The Oxford Book and Stationary shop on the Chowrasta, Mount Everest Hotel, which was entirely derelict at the time, The Capitol Cinema, and of course, Windamere Hotel where he stayed.
Co-incidentally, in his later years, Tom Stoppard became great friends with Felicity Kendal, the well known actress who played Barbara in the BBC series, "The Good Life." She too had lived at Mount Hermon School during her childhood, and one of our old headmasters, Rev. David Stewart, remembers her and her family very well. She writes about her memories of Darjeeling and the old school in her book "White Cargo." As many of you would know, her family used to tour India and put on Shakespeare and other plays at various schools, and her sister, Jennifer, married the famed Indian actor, Shashi Kapoor.
Back to Sir Tom.

For those not completely familiar with his work, among his many plays are Rosencrantz and Guildenstern Are Dead (
1967
), Enter a Free Man (
1968
), Jumpers (
1972
), Travesties (
1974
), Every Good Boy Deserves Favour (
1977
), Night and Day (
1978
),

The Real Thing (
1982
),

Arcadia (
1993
), Indian Ink (
1995
), The Invention of Love (
1997
), The Coast of Utopia (
2002
).

He was also screenwriter for Steven Spielberg's film, "Empire of the Sun," (1987)

and "Shakespeare in Love," (1998) for which he won an Oscar for Best Screenplay.

He was knighted in 1997.