Little Gems
Going through old school magazines and reading the poems and writings the school-kids have contributed through the years, one occasionally comes across some little gems. Here are a few by the Whyte brothers that caught my eye. They both seemed to have a great talent for poetry!
The Scarecrow and the King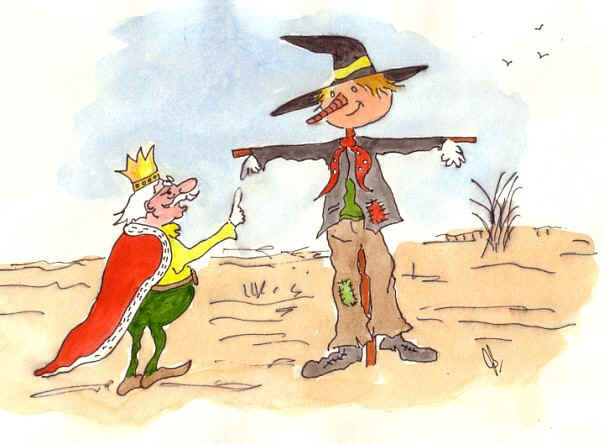 A King looked out across the fields,
And said; "What's this I see?
A fellow standing still as still,
As lazy as can be!"
He hurried then across the fields
To bid him not to shirk;
"You lazy fellow, " cried the King,
"How dare you do no work!"
The scarecrow smiled, and merely said,
"Put on your specs, O King,
And then you'll see I really work
As hard as anything."
David Whyte, Std.1 (1954)
-oOo-
Sunset in Darjeeling
The sunset in Darjeeling
Is a very lovely sight;
The sun shines on the mountains
And makes them look so light.
The mountains are all rosy
And coloured by the sun;
And when the tinted clouds go by
They make the colours run.
But when the sun goes down to sleep
The moon comes out instead,
And when the birdies cease to cheep,
We all go home to bed.
Gordon Whyte Std.V (1954)
-oOo-
The Sheep Go Home at Sunset
A shepherd in the evening
Takes his charges home,
In a golden sunset,
Light as coloured foam.
The sunset like a picture -
All flaming red and gold,
When always in the evening
The sheep go home to fold.
The sunset spreads its colours
On every whitened fleece,
And always seem to tell you,
"Go home, and rest in peace."
Gordon Whyte Std.V (1954)