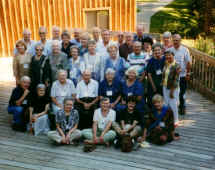 MHUSA Reunion - USA
June Dewesberry of the Mount Hermon association in the USA sent in this photograph taken at their reunion on September 3, 2002. Sadly MHUSA has now been disbanded.
Front Row: (left to right) Esther Kniss Augsburger*, Laverne Vogt Nafziger*, Lois Hostetler Bjerkstrand,* Marylou Engle Bert*

Second Row: John Jay Hostetler*, Mary Ann Hostetler Melchert*, Verna Troyer, Dana Troyer*, Ardys Engle Thuma*, Nancy Hostetler

Third Row: Ellen Turner, Esther Kniss, Jane Feierabend, Carolyn Turner Newton*, Audrey Anderson Wheeler*, Malcolm Davis*, June Baur Dewsberry*, Irene Dunn*

Last two rows: (follow the heads!) Ted Feierabend*, Paul Kniss*, Calvin Newton, Emil Menzel*, John Turner*, Harriet Menzel, Myron Augsburger, Roger Wheeler, Dean Nafziger, Dick Kern*, Art Dewsberry, Sharon Kern, Phyllis Hostetler, Gordon Hostetler*.

The asterisks ( * ) denote MHS alums. The rest are spouses.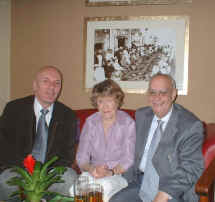 OMHSA Reunion 2003
L to R: Guest Terry Martin, Author of "Halfway To Heaven," a book on Darjeeling and its remarkable railway, Hazel Craig (Innes), Author: "Under The Old School Topee" and Secretary OMHSA, and Hon. Treasurer, James Sinclair. Taken at the Bombay Brasserie, London.